Wandering Planet Toys
, the manufacturers of The Prisoner action figure line, have a new line of action figures coming to the market focusing on the
classic children's sleuth Nancy Drew
. Doc Wyatt and Gavin Hignight's raised over $210,000 in the Kickstarter campaign for The Prisoner and they are hoping that their Nancy Drew campaign will be at least as successsful.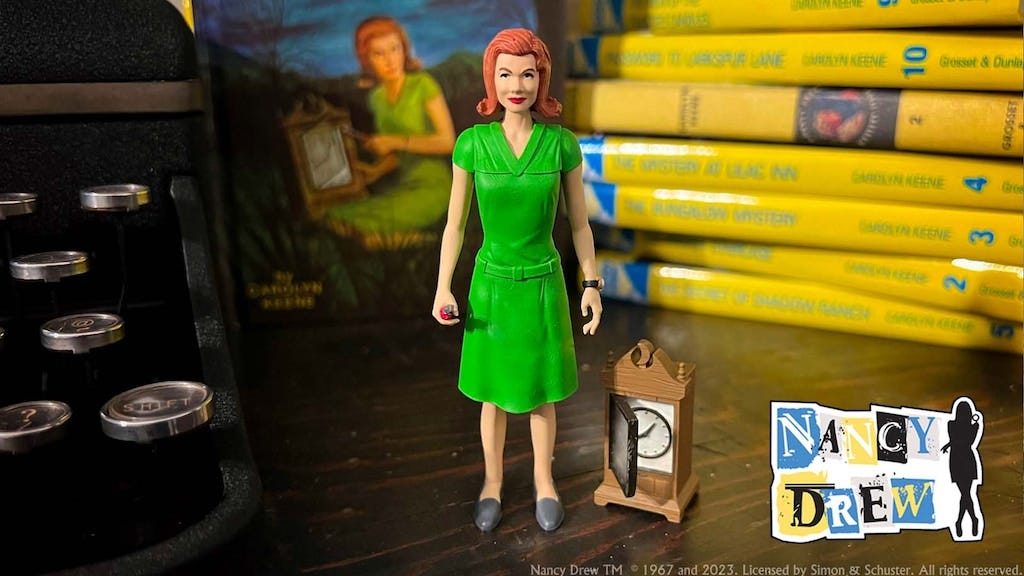 This is the first time that Nancy Drew has been licensed for an action figure and Doc and Gavin have gone all out to ensure that the action figures are of the highest quality. nancy Drew is a beloved character who has been the focus of 9 movies, 3 television shows, and many successful video games. Backers of this campaign have a number of surprises in store for them? What kind of surprises? Well, you'll have to listen to the podcast to get the big one.
As you can see from this video clip from the episode (the actual podcast is audio, but I couldn't resist including a couple of video clips) Doc and Gavin are committed to capturing the beauty of the Rudy Nappi cover illustrations and showing that Nancy is a woman capable of rescuing herself.
As with The Prisoner line of action figures, the Nancy Drew figures will come in packages that key in on specific episodes/books. This is clearly a project of passion for Doc and Gavin, and you can really see Doc's excitement as he talks about The Mystery at Lilac Inn. We didn't go as deep into Nancy Drew lore as is possible, but I'm quite certain that Doc could have geeked out for hours about the character and never missed a beat.