Episode 165: Chatting with Doc Wyatt about Alien Bones and Super Dinosaur
We were lucky enough to connect with Television and Film Producer
Doc Wyatt
a couple of weeks ago to discuss a couple of his newly released projects. While Doc's producing credits include films like
Napoleon Dynamite
, our discussion focused entirely on his work in comic books and animation.
His most recent comic book
Alien Bones
is an adventure tale in the emerging "Dim Dark" genre. Tomorrow's post will include a review of the book as well as role playing game stats for some of the characters, which should give a suggestion of what I thought of the book. HINT: I liked it and so did my daughters.
Doc's a busy content creator, who's work includes a wide variety of animated series. If you like super heroes and/or Star Wars, it's likely that Doc and his writing partner Kevin Burke have worked on your favorite show. He's currently working on a number of series, but Episode 165 highlights his work on the recent
Super Dinosaur
series, which is an adaptation of a comic book by Robert Kirkman of
The Walking Dead
fame.
Super Dinosaur
is a mash up of Science Fiction, Super Hero, and Hollow Earth tropes that is currently airing on Amazon Prime.
I don't want to reveal too much of the interview here, but here are a couple of things we touch on during the interview.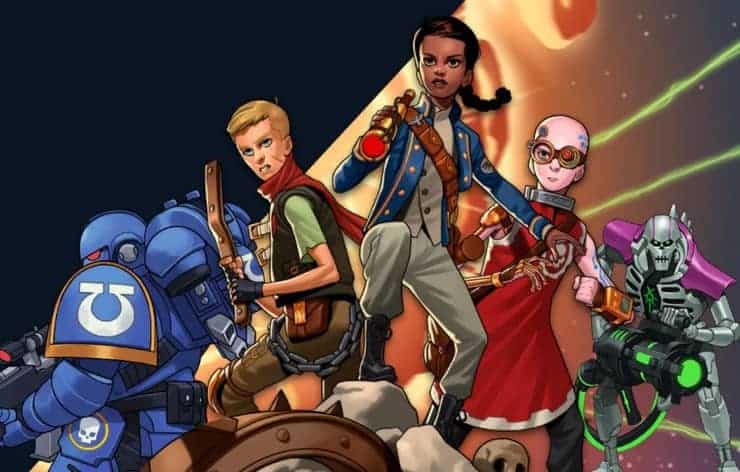 The Dim Dark genre and books like the new
Warhammer Adventures
series. Let's just say that if you like Alien Bones, you'll like Warhammer Adventures and vice versa.
The
Spelljammer
setting for the Dungeons & Dragons role playing game, a setting of wild fantasy adventures in outer space.
Season 20 of
Doctor Who
featuring Peter Davison as the
Fifth Doctor
, and the
Enlightenment
storyline in particular.
The classic Vincent Price horror film
Witchfinder General
and the comic book of the same name by Doc Wyatt.
The short lived Jeph Hephner series Agent X that ran on TNT in the early 2010s.
The amazingly entertaining Disney Junior series
Octonauts
that my family loved so much I had to order toys from England as Christmas presents.
The old show
Voyage to the Bottom of the Sea
, which is the live action adult equivalent of
Octonauts
, cool ships and all.
The Marvel comic book
Death's Head
featuring a character originally published by Marvel's British Comic book division in the 1980s.
It's a great conversation and we'd love for you to listen.